Welcome to James's absoloutley STUNNING !! 56,
Is this Australias best Baby Bird, If there is a better one I certainly haven't seen it yet. This car is truly beautifull.
Name:
James Pantelis
Forum Name:
JPTBird
State:
Victoria.
Year of Manufacture:
1956
Hardtop or Convert:
Convertible w/ Porthole Hardtop & Soft Top
Body Colour:
Colonial White
Original Paint or Re-paint:
Re-paint 2004
Interior Colour:
Fiesta Red
Original or Re-trim:
Re-trim
Engine Size:
312 Ci
Manual or Auto:
Ford-o-matic Auto
Accessories Fitted:
Factory P/Steering, P/Brakes, P/Windows, P/Seat
Purchased in Australia or Imported
: Imported from Vancouver Canada July 2012
List any Mods:
Thermatic Fan, F&R HD Sway Bars, Additional rear leaf spring (raised rear 30mm)
Wheels if non standard, What Make & Size
. Thunderbird 15" Wire Wheels
Any work you've done or had done to the car:
Replaced shock absorbers all round. Re-set rear leaf springs and added one extra leaf to raise rear by 30mm in preparation for fitting Thunderbird Wire Wheels. Fitted Thunderbird Wire Wheels. Added new F&R Heavy Duty Sway Bars to minimise roll when cornering. Added 'Parade' (Thermatic) Fan to safeguard against over heating when stuck in traffic or when inching along trying to find a car park at the Mornington Show n Shine on the 'Lets Go Cruising' Nights.
Future Plans:
To maintain the car as is and pray for minimal 'issues' in the future.
What do you enjoy most about the car:
It's cool to drive and cool to speak with strangers at the lights who want to know about the car – in 20 seconds or less. These older fifties classic's help you make friends wherever & whenever you are out and about. Have made a bunch of new friends & acquaintances by attending Club Meetings, Outings as well as other car shows.
If there is any story about the car , please tell us.
After months of searching online (Hemmings, EBay, Minter TBirds etc), I took the decision to travel to the U.S March/April 2012 to purchase a '56. Had 3 in California and 1 in Vancouver to view after e-mails, photos and phone calls. The 3 Californian cars were each good enough to bring over to Oz but felt that the White One in Vancouver would probably be the more 'sparkling' one – judging by the photos and conversations with the restorer (who had recently sold it to the person selling it to me). This car had a complete 'body on' restoration in 2004. The restorer also gave me the 'heads up' that the guy selling the car was in trouble with his wife and desperate for a quick sale. He was caught having an affair and the marriage turned sour with all his toys having to go. So a price negotiation was a high probability given the economic climate in North America – especially if you are about to be kicked out of your own house.
I arrived in Vancouver around midday on a Thursday and by Friday noon I had completed the purchase. We drove the Tbird to the pre arranged shipping company's container yard (see pic) and was dropped off at the airport for my flight back to L.A. The car arrived into Melbourne first week in July and by 15th July was road registered.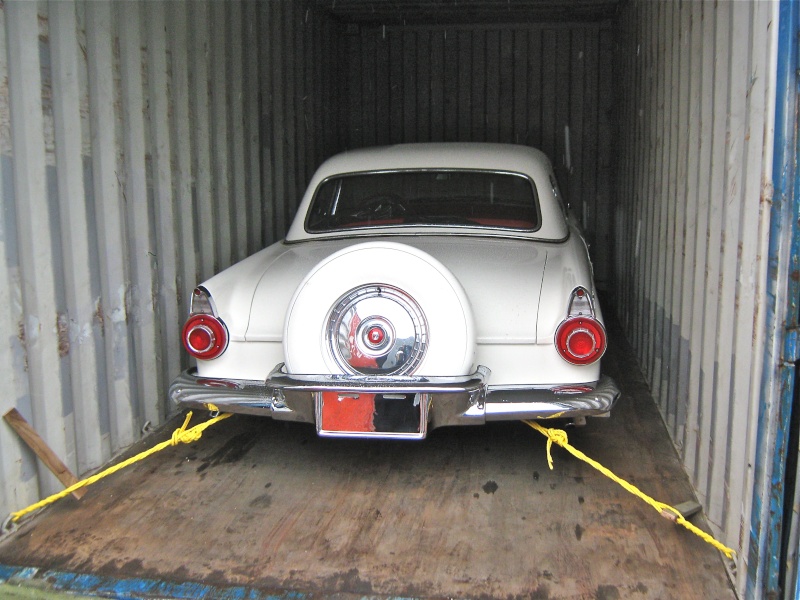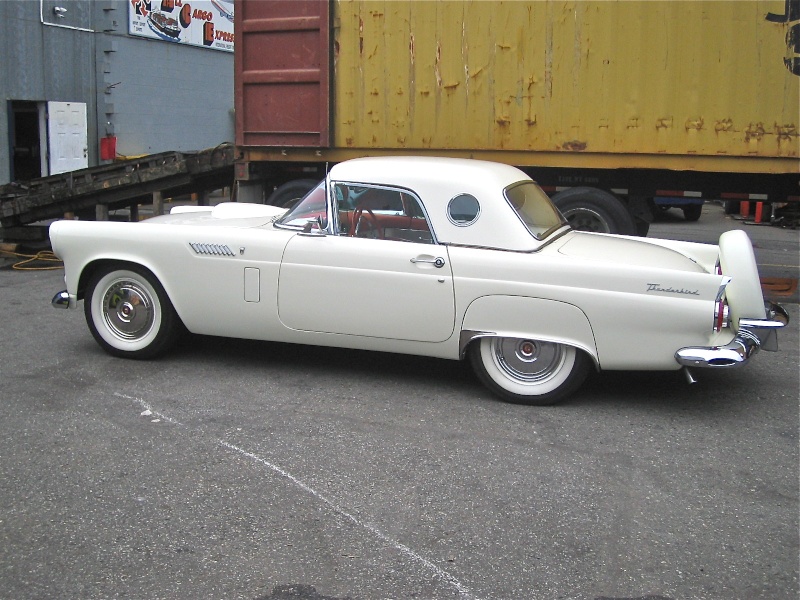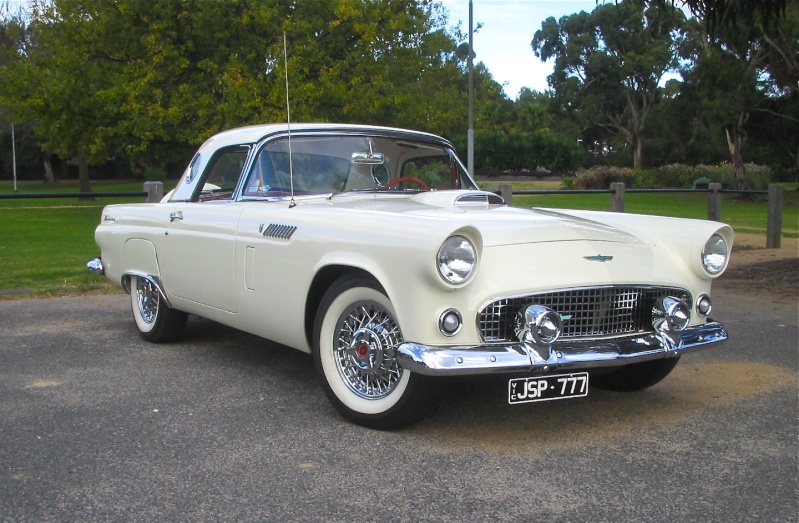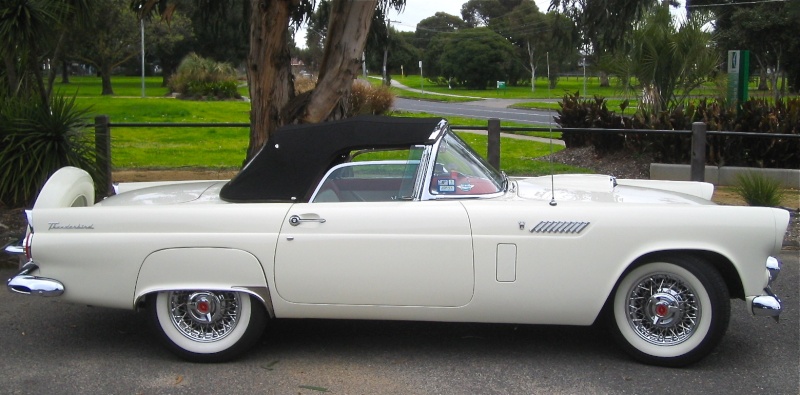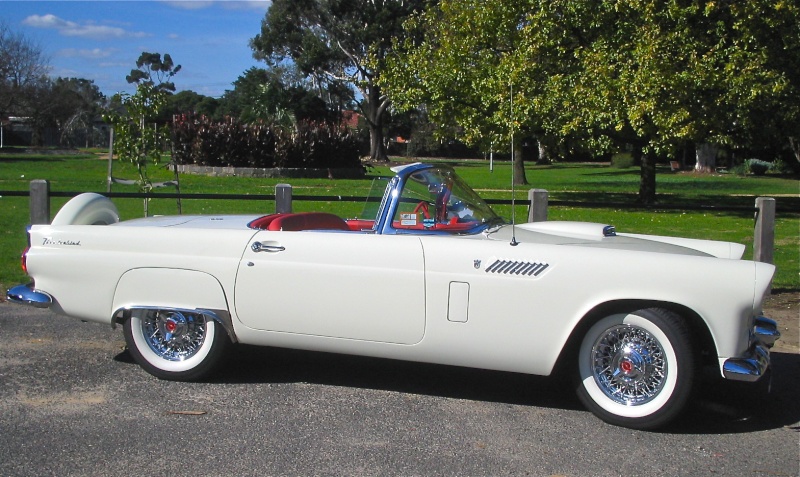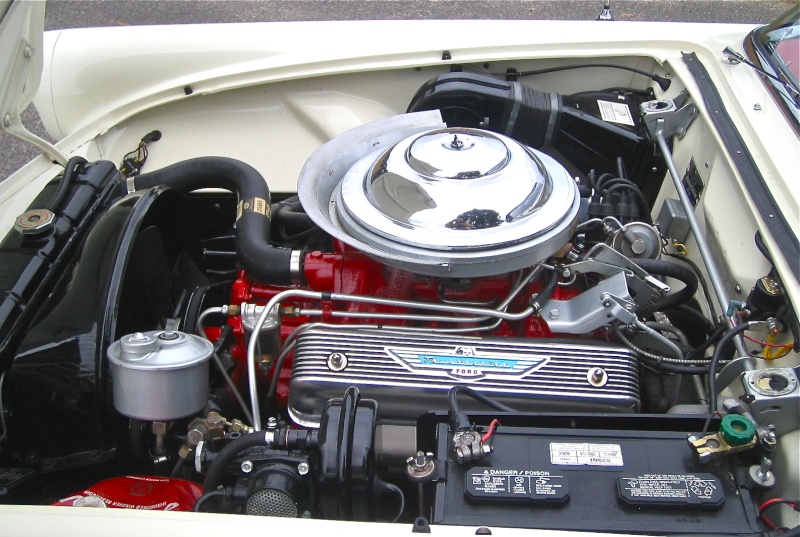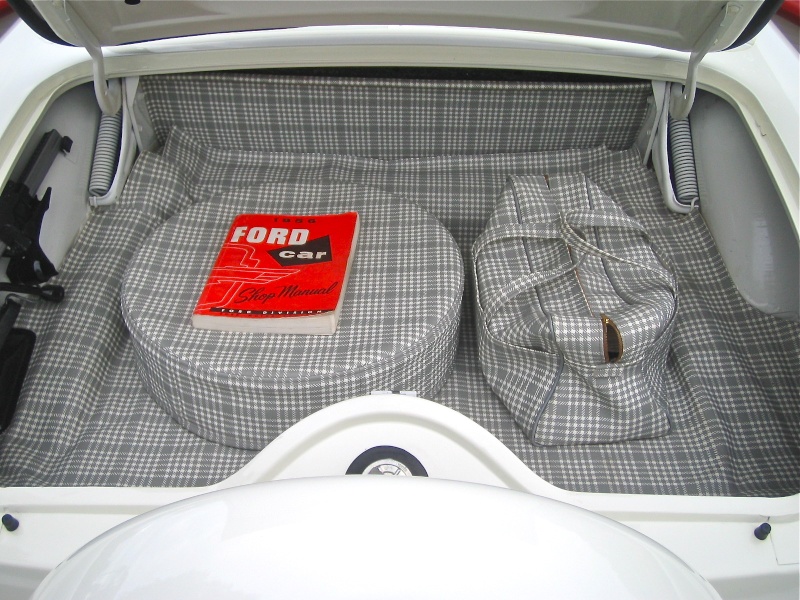 Last edited by DaveG on Mon Apr 22, 2013 10:31 pm; edited 2 times in total


***************************************************************************
Those that matter dont Judge, Those that Judge dont matter
No Chrome = No Class
Admin




Posts

: 1015


Join date

: 2012-02-24


Location

: Narre Warren



beautiful my all time favorite car and color combination



Posts

: 75


Join date

: 2012-04-24



Nice James Nice, what else could I say she's a ripper.
Tony.



Posts

: 89


Join date

: 2012-05-14


Location

: Australia



Hi James,

Like l have said before > What a beautiful Car !!!

You were very lucky or more likely you did a lot of research and traveling to get yourself a beautiful car.

The white with black ascents and red interior is just right.

Enjoy!


Admin




Posts

: 604


Join date

: 2012-04-11


Location

: Boronia, Victoria



hello james
it was love at first sight at phillip island what a beautiful example of a baby bird congratulations on a terrific find happy cruising



Posts

: 114


Join date

: 2012-03-18


Age

: 58


Location

: Altona Vic



Lovely.
Bloody lovely.
I'm jealous!




Posts

: 64


Join date

: 2012-04-27


Location

: South New Zealand



Hey James, that's a damn fine T'Bird. Beautiful example, mate. Chris USA6T4



Posts

: 39


Join date

: 2012-04-13



---
Permissions in this forum:
You
cannot
reply to topics in this forum