Name:
Tony Buchanan
Forum Name:
tony b
Country / State:
Croydon Hills Vic Aus
TBird Year:
1966
Body Type:
Convertible
Body Colour:
Factory colour Candy Apple Red
Interior Colour:
Black
Engine:
315 hp 390 4 v stock original
Transmission:
C6 auto
Differential:
std 9 inch
Standard Equip included on my 66:
disc brakes, power steer, pwr windows, am radio
Added Extras:
Fm tuner, fender skirts
Purchased From:
I found our car,
Candy,
on Ebay. It was supposed to be a 2 owner car never driven in the rain always garaged blah blah. We've all heard that one before. What I have found out since owning the car and this is supported by some of the documents that come with the car is that it was more than likely a barn find, last registration sticker still attached to windscreen was in 1980 with 78000 miles. I have receipts from the US for the same time period with matching odo reading. Some where between 1980 and 2008 when I bought it, she has had a paint job, new roof and wire wheels installed. When we bought her she had 80K miles showing. We imported her ourselves with the help of an importer. The worst part was waiting for her to get here. When she arrived she looked just as she did in the Photo's , it was when we got up close we found out there was more to her than meets the eye.
Modifications:
I've had the suspension overhauled and she now runs larger bore gas shocks for improved handling, rears springs have been reset with and extra leaf and the front sway bay is a new fatter version. I did have a rear bar installed but wasn't too successful it's since been removed as I look into its installation further.
Wheels Type & Size:
Candy runs 15 x 7 chrome wire wheels with 215. 75 . 15 slim white walls.
Work you've done or had done:
where do I begin.
Body.
I've had to replace the inner and outer rear ¼ panels as bondo, chicken wire and balsa wood just didn't cut it for me. These were fabricated here from real steel and fitted to the car.
Under the hood.
New head gaskets, starter motor, fuel pump, complete exhaust system, recoed brake master cylinder and booster, front callipers recoed, some brake lines replaced, new wheels cylinders, the suspension works as mentioned above, the diff has been recoed, new wheel bearings, new universal joints, new upper and lower ball joint, new tie rod ends, new caster rods and bushes, new lower control arm bushes and the list goes on.
Interior.
The interior is basically as it came from the States I've had to have a small split repaired on the driver's seat to make it presentable.
The roof.
Other than when the panel beater broke one of the wires the roof has only failed us once, and as you could imagine it was when there was a crowd gathered and she failed to launch. We were at the Sky High in June this year with some fellow TOCA members when it happened, at least it was in the closed position and not half way through a cycle. It turns out the brushes in the pump motor gave up the ghost. Other than that like the rest of the car she has been 100% reliable.
Future Plans:
To continue the restoration works and keep her going as long as I can. I don't want a 300 point concourse winning car that I am too frightened to drive. I want a nice looking car that I can drive when ever I want to. Short term plans are to maybe pull the motor out and give it a freshen up and tidy up the engine bay next winter maybe, rebuild the tranny just for that added reliability. I've noticed the front guards and hood need some attention and I really need to start replacing more of the weather seals. I would also love to have the chrome work redone for that added bling down the track.
What do you enjoy most about your TBird:
Where do I begin, of all of the questions this is probably the hardest to answer, for me the biggest buzz is probably sharing our car with everyone else, and by that I mean seeing the faces of strangers who give you the big thumbs up as you drive along, having people tell you, "nice car mate", as you sit in the traffic. It's the joy you bring to those less fortunate than your self as you let them sit in her for a photograph or take them for a cruise. It's helping a mate out for a relatives wedding. It sitting back and watching from a distance the amount of people who walk up to her and admire her as she sits there on the side of the road or in a car park. It's these things I think I enjoy the most. Don't get me wrong for one minute, there is nothing better than on a nice sunny day than to peel the roof off and hit the road for a cruise, to any where it doesn't matter the destination not the adventure it's getting there, and back that counts. I'm fortunate too that I have a wife, Michele, who enjoys it just as much. Those of you that know us will know that it's pretty rare for us to cruise with the roof up.
Above all of this are the friends that we have met and made along the way since owning our beloved Candy. I was never one for joining a car club because in my youth I was member of a Panel Van Club, yeah yeah enough is enough, and although there were some great guys in there, there were also a lot of wankers and because of this I was going stay clear of clubs in the future.
How ever I had met some TOCA members at various events just prior to buying Candy and then again after she arrived and I thought these guy's seem really decent and helpful and so we joined the club. Having joined we have made some great friendships and it is just wonderful to be with a group of people that enjoy the same things that we do, I especially like our weekends away when I can have that little extra time to spend with them. It is sometimes hard to find time to spend with everyone when you are trying to organise things but you know there are always people there to help out. I must also add that being a part of this Forum is also an enjoyable experience, again never having tried a forum before I didn't know what to expect but I have to say there are some truly wonderful people out there and I am glad to be a part of it. From the touching story of the NSW guys pitching in and helping that young couple out with their wedding cars,or to the help that someone has needed and received or to Giovanni and his epic build and to the sad times when we have lost someone. It has been a pleasure to read your stories, and share your emotions.
If there is one negative since buying Candy it is that once you start with a classic car, one is not enough. As you know along with Candy we also have Amber, our little 66 Mustang, she is a fun car not in the same league as Candy but fun all the same. What some of you may not know is that we are in the process of buying yet another addition to the stable, or birds nest in the form of a 56 baby bird called Tiffany. Tiffany's story can wait for another time. Tony.
Here are some Pics: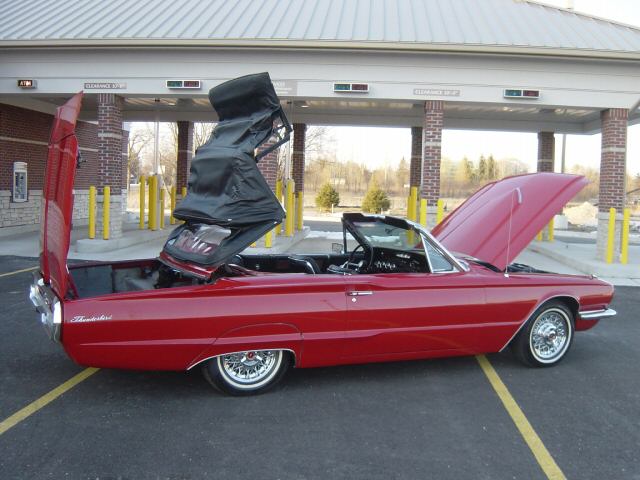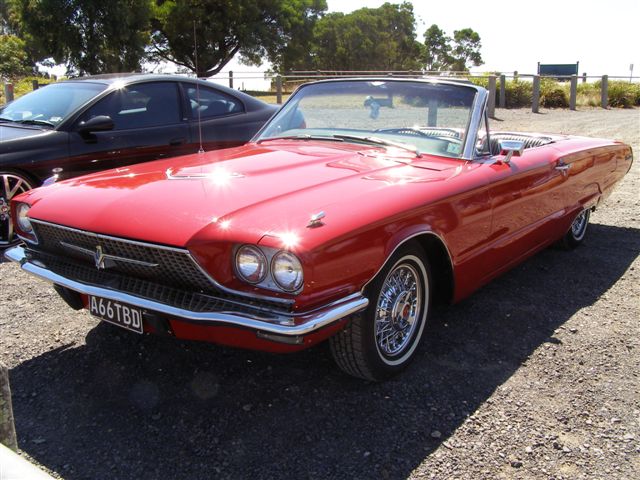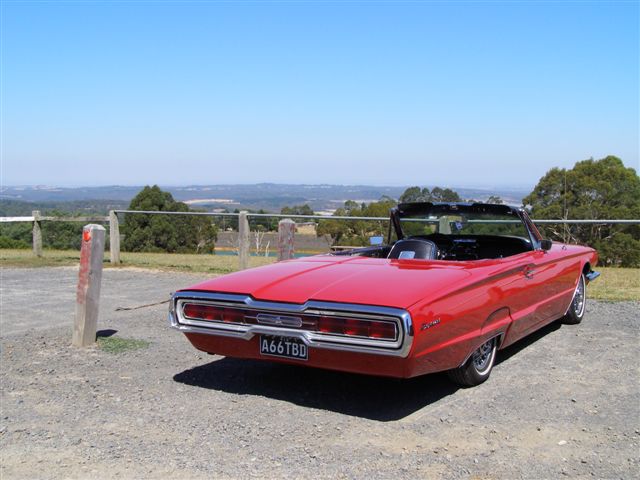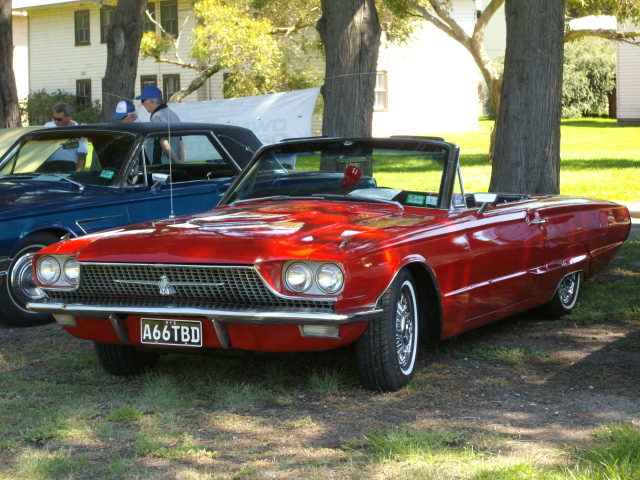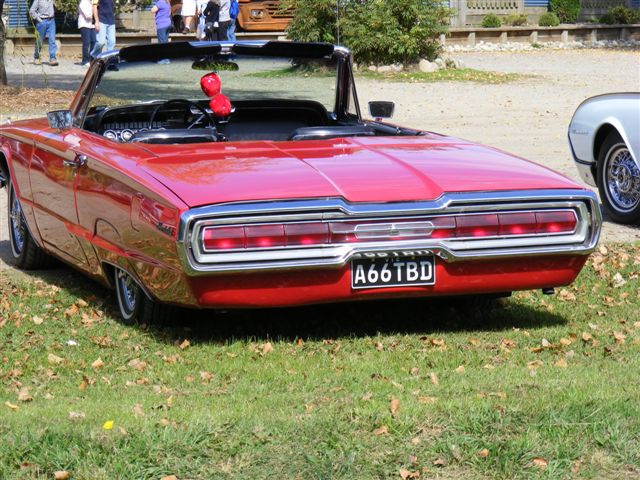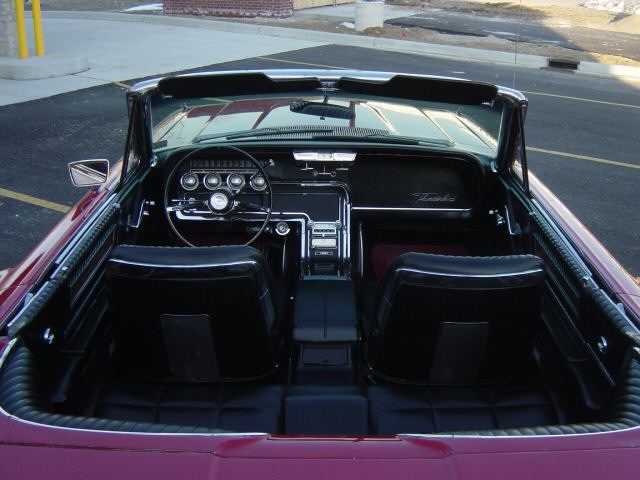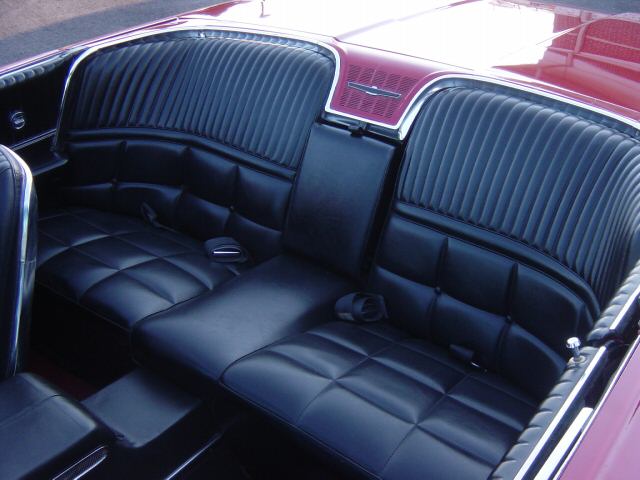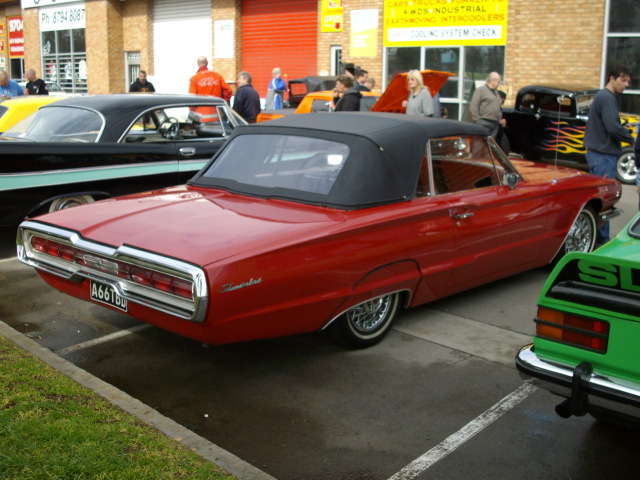 I have also included another photo that I thought may interest some members, it is the original owner's disc which was issues to all new car owners that is supposed to be presented when the car is in for service.
It contains the name and address obviously but also lists the VIN and build details. It is probably pretty rare in that it hasn't even been opened and still in its original pack.
The information it contains is as follows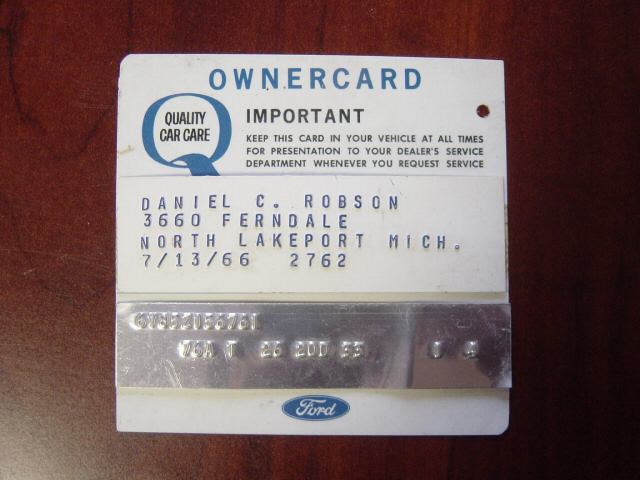 Here's my ID Tag details
6 1966
Y Wixom Michigan build plant
85 Convertible
Z 390 4 V 315 hp
156761 scheduled number to build
76A Convertible
T Candy Apple Red
26 Black (trim)
20 D 20 April (build date)
33 D.S.O Detroit (built for where)
1 3.00 Axle (open 9 inch)
4 3 speed dual range (trans)
So as can be deduced my car is a numbers matching car by US standards.
Total convertibles built for 1966, 5049. The last year of the convertibles until 2002 when the retro birds were released. Thanks Tonyb
Last edited by DaveG on Mon Apr 22, 2013 10:29 pm; edited 2 times in total


***************************************************************************
Those that matter dont Judge, Those that Judge dont matter
No Chrome = No Class
Admin




Posts

: 1015


Join date

: 2012-02-24


Location

: Narre Warren



Great looking 'Bird Tony, those big birds are certainly in a league of their own. With regards to having to possess another classic , I'm sure a lot of us here know what you're going through.
We had a '64 cpe , which we sold to buy the '57. Then I had to have this '50 chevy p/u & just lately I've bought a '33 5w cpe ( originally rodded in '68/'69 ). The wife wants me to get another '64 ( conv this time ) & I still have a hankering for a '62 cpe. I guess once you have this disease, it's always with you.
:-)



Posts

: 135


Join date

: 2012-06-04


Location

: Perth



Oceanside TB wrote:Great looking 'Bird Tony, those big birds are certainly in a league of their own. With regards to having to possess another classic , I'm sure a lot of us here know what you're going through.
We had a '64 cpe , which we sold to buy the '57. Then I had to have this '50 chevy p/u & just lately I've bought a '33 5w cpe ( originally rodded in '68/'69 ). The wife wants me to get another '64 ( conv this time ) & I still have a hankering for a '62 cpe. I guess once you have this disease, it's always with you.
:-)
Funny thing they say the same thing about Tattoo's once you get one you cant stop.
Love the read on your car Tony, your Classic T-Bird is probably up there with the best of them, and let me say there has been some fine looking T-Birds showcased on this Forum.
Last edited by 1963-FTB on Tue Nov 27, 2012 10:14 pm; edited 1 time in total



Posts

: 123


Join date

: 2012-06-05


Location

: Keilor Downs



I know what you meen about the tattoo's

The a nice looking 66 convertable you have tony
Well done



Posts

: 196


Join date

: 2012-08-29


Age

: 42


Location

: sunny melbourne



Candy is a great looking bird Tony.
Gotta love the rag tops.
Look forward to meeting Fiesta Tiffany soon.
jptbird



Posts

: 176


Join date

: 2012-06-13


Age

: 58



Evening Tony,
She is "Pretty", l remember how you told me how you purchased her on Ebay and the worry until she arrived
In the end she did arrive and as you have indicated the Yanks do take 'short cuts' on repairing thier cars

But you have done a great job in looking after her, she looks amazing
See you on the road ~ Catch you Tony

Admin




Posts

: 604


Join date

: 2012-04-11


Location

: Boronia, Victoria



hello tony
what nice combination red with black interior the car has come along way from the way you described it congratulations on all your hard work



Posts

: 114


Join date

: 2012-03-18


Age

: 58


Location

: Altona Vic



WOW Tony
I love TBird convertibles, when ever i see one i wish i had waited and hadn't jumped at the Mustang.

Wanna swap for a beautifull Mustang 1 lady owner only driven to Churchcar Shows on Sundays Love that Red Tony beautifull car.



Posts

: 51


Join date

: 2012-04-30



---
Permissions in this forum:
You
cannot
reply to topics in this forum