Hi All,
Have you ever been in a position when your so
PI55ED
that you can't get a word out





After a lovely UK holiday, this weekend l went to get
BING
out of wraps to prepare her for this weekends Breakfast Gathering.
I took the cover off, prepared to give her a wash &

there were all small 'bubbles' in the paint.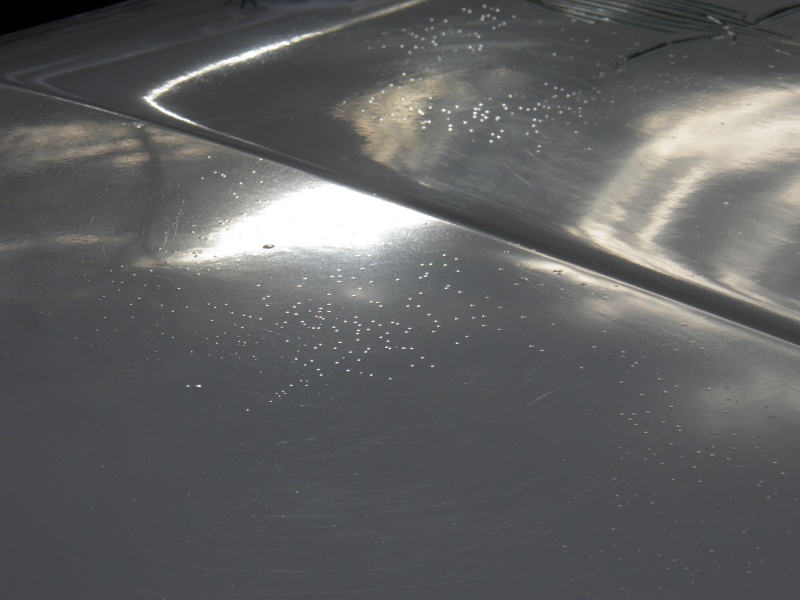 With 5 weeks of keeping her wrapped up the' heating/ cooling & moisture'
'FRUITED'
the paint.
All l could do was walk away, l didn't know what to say or do, the inside of my sank so deep l felt empty


I dropped down & just stared at her >> a year of burning midnight oil weeknights & weekends building her, an a amazing summer cruising around the state getting
'Thumbs Up'
were every you went - then this.
Why
, was she outside under wraps???? while Shaun had his LoLux in the garage getting it final paint & engine fitment.
Where to now !!
More work, More money and the Splitty gets pushed further behind & l can't drive BING.
Hey Gio, things could be a lot worse, your car could have been damaged in a collision and/or you could have been hurt.

Cars can be fixed with relative ease, people are a little harder to mend.

Likewise, your experience should serve as a warning to all others who need to store their rides outside and want to make it as weatherproof as possible.

Rule one, if you need to cover the car NEVER, repeat NEVER use plastic or any material that does not breath.

The upside, is that all the lessons you learned first time around will be put to good use and the next paint-job will turn out even better.

I'm not sure if they'll cover it, but have you contacted your insurer?



Posts

: 236


Join date

: 2013-04-10



That's terrible Gio, You must be gutted.



Posts

: 79


Join date

: 2013-02-02


Location

: Berwick Vic.



Gio, I feel your pain.

Have had the same problem with another car I own from a previous life.
When I got the Thunderbird, I put the Bugeye Sprite under wraps, thinking I was doing the right thing.
Approx 3 months later when took the covers off, BUBBLES !!!!
Man I havent even thought of repairing yet to depressed.
So I guess we are in the same boat.
If you need a hand to rub back or just someone to drink lots of beer with, only to pleased to help.

Gary H



Posts

: 22


Join date

: 2012-03-20



Thanks for your thoughts

Yes it's only a car and no one was hurt.
You think your doing the right thing by protecting her - but fresh acrylic paint needs to mature a bit more than 12 months to toughen up !!
So by keep it sealed up stopped the paint breathing and the vapors escaping, thus they formed just under the top coat.
Well, this has just opened it up the a new paint job >>
Colour, Design, Combo, Custom

>>> Decisions, decisions ????
hello gio
just got home from cooly rocks had a great time have to do it again next year dave had told me of your bad news I have had a look at the photos what can I say all I know you will bounce back and return bing back to her full glory



Posts

: 114


Join date

: 2012-03-18


Age

: 59


Location

: Altona Vic



Hi Kev,
Thanks for your support - yeah,
BING
will rise again but this COLD weather is going to give me a bit of a hard time

Good to hear you guys had a great time up in
Cooly Rooks
, can't wait to see the photos.
See you soon.
Hi Gio
Just got home, I'll give you a call Tomorrow.


***************************************************************************
Those that matter dont Judge, Those that Judge dont matter
No Chrome = No Class
Admin




Posts

: 1015


Join date

: 2012-02-24


Location

: Narre Warren



---
Permissions in this forum:
You
cannot
reply to topics in this forum