Hi Oceanside,

Why are some people so lucky?

Great collection of cars.
Admin




Posts

: 604


Join date

: 2012-04-11


Location

: Boronia, Victoria



Thanks Paul
that is a great collection of cars, looks like a decent garage area as well.
Thanks for posting pics.


***************************************************************************
Those that matter dont Judge, Those that Judge dont matter
No Chrome = No Class
Yes, he has quite a collection. Was told that he is planning on taking 9 of his Rods over to Queensland for the 2013 ASRF Nationals ( has 2 car carriers ).[img][/img]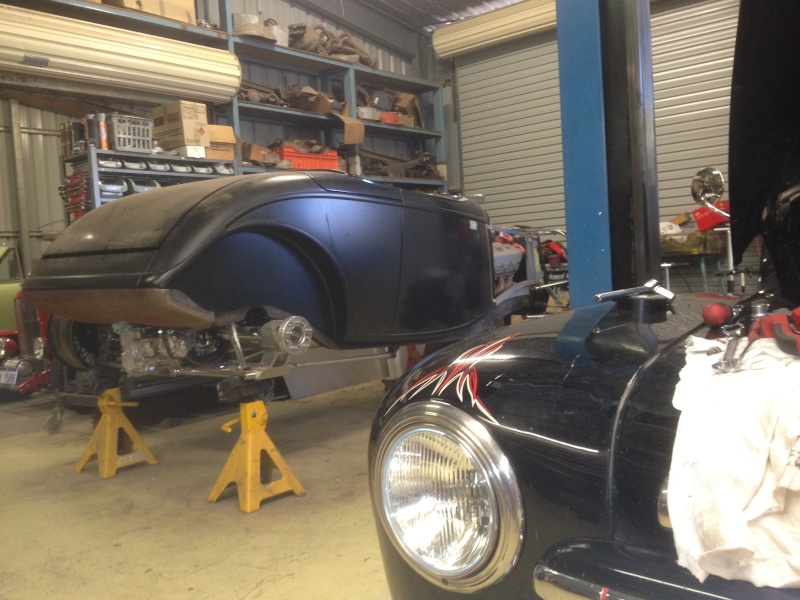 All his cars are steel ( no fibreglass here ), including those two '33s which both have folding soft tops which disappear back into a slot behind the seat & are then concealed with a hinged steel cover ( similar to early Corvettes ).
That 51 would do me nicely, crusin with the top down and my chrome hair blowin in the breeze now that would be cool.


***************************************************************************
Those that matter dont Judge, Those that Judge dont matter
No Chrome = No Class
There is also a yard full of projects ; 42 & 46 Ford cps, several late 40s caddys, 56 chrysler new yorker, 48 lincoln cp, early 50s victoria, half a dozen 80s/90s corvettes ( to be parted for their suspension for a kit to be devised to fit his 56 F100s [ has a p/u & panel truck ] ), late 60s el camino, several shoe box fords & others which I've forgotten !
[img][/img]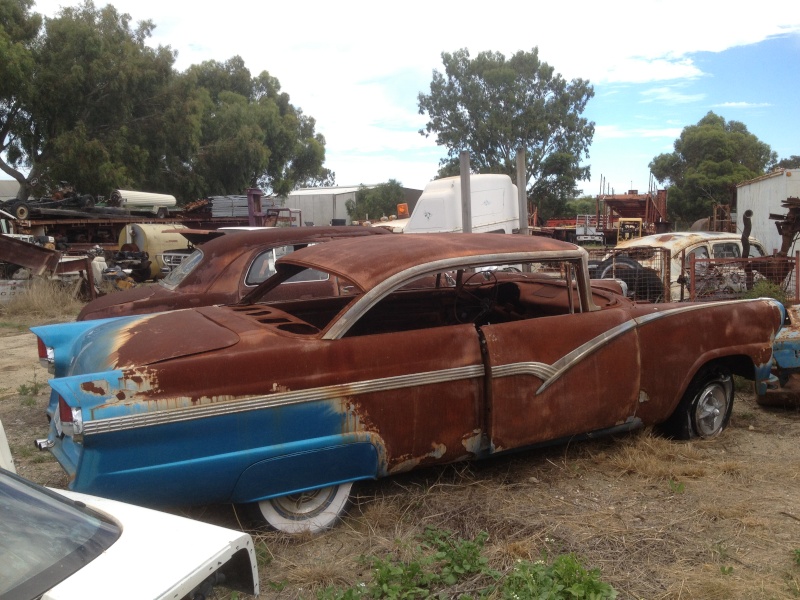 Now some of you guys are going to shed a tear when you recognise this '56 Victoria. Was a mild custom with Desotto grill, Mercury tail lights, white interior & multi carbed engine. Unfortunately one of those fuel lines came loose while driving across a railway crossing & this was the end result. Our host bought the wreck off the owner & its been added to his list of projects ( I think he's planning to live to at least 150yrs ).
Last edited by Oceanside TB on Fri Dec 28, 2012 7:33 pm; edited 1 time in total
What can you say, this guy is either not married or has the worlds most understanding wife.
having all those cars would do my head in, where do you start, so many projects that one day hopefully will develop into amazing cars.
He needs to organise a few (hundred) working Bee's to get some of them done. As you said Paul a tear should be shed over that 56 Vicky. I cant imagine how the owner must have felt standing watching his pride & joy go up in flames.


***************************************************************************
Those that matter dont Judge, Those that Judge dont matter
No Chrome = No Class
Yes Dave, he has a very understanding wife. Fortunately, she has similar interests, for the fully fendered orange 33 is hers. Fellow runs a successful trucking business ( no money in trucking they say ? ). The black 57 TBird has had an interesting history before finally reaching our shores. He bought the 'Bird while in the U.S. & gave the seller another $10k to do some work on it ( seller ran a resto business ). Several months go by , then the seller can't be contacted. Not answering phone calls, emails, nothing......not a good sign. Our friend tells his son to quickly organise a pair of return tickets to the U.S.
When they arrived at the seller's premises ( needless to say, he's a little surprised ), the 'gentleman', is getting ready to part it out, after he tried to resell it, only to realise the pink slip was now in Oz. I wasn't told what happened next....but I'll leave that to everyones imagination.
---
Permissions in this forum:
You
cannot
reply to topics in this forum