Name:
Chris & Allison Gleeson
Forum Name:
usa6t4
Country / State:
Melbourne, Australia
TBird Year
1964
Body Type
H/Top
Body Colour:
Samoan Coral Body Wimbelton White Roof Samoan Coral was aColour option on the 1964 range
Interior Colour:
Black
Engine:
390: Holley 600cfm carburettor, Rebuilt Cyl Heads, Flex fan and Thermatic Fans Rebuilt Airconditioning
Transmission:
Reconditioned Cruiseomatic
Differential:
Rebuilt 9" 3.0.1
Standard Equip;
Power steering, Power windows, air conditioning
Added Extras:
Electric aerial Fluffy Dice, Bouncing Elvis.
Purchased From:
Our chase for a Thunderbird began with Allison and I visting the US and having the goal in mind of purchasing a Babybird, I had one tee'd up to look at and was convinced from Photos and discussions with the owner that it was the car for us but unfortunately the pictorial version and the real life version were poles apart, infact i think the pics we were given were taken several years earlier, anyway that experience dampened the passion for a short time and It wasn't until we returned to Australia that we began looking again but this time we'd changed the search criteria and decided the larger Flair Bird was more practical for our needs. We looked at several before coming accross a Britany Blue 64 which really took our attention and as they say the rest is History, Shortly after I'd purchased it i tried to get the seller take it back as i felt it was going to be too big a job to get it to where I wanted, Allison and I discussed it and decided that whatever we buy is going to need work to become the car we want so the decision was made to keep her.
Modifications:
I have replaced the front brakes with discs off a 65 Thunderbird and 15" Kelsey Hayes wire wheels . Added a dual master cylinder and fitted an MSD ignition system
Wheels Type & Size.
15" Kelsey Hayes Wires and white wall tyres.
Work you've done or had done :
Full repaint Colour change from Brittany Blue to Samoan Coral & Wimbledon White full interior retrim in black and new black carpets, Rechroming of almost every piece, and reanodising of interior pieces. Spent many hours in the driveway in winter with a Drivers side window that would not work as it should, eventually discovered the motor spring was fitted back to front. The small things often represent the most frustration
Future Plans
Fit a rear window venetian Blind and Drive her as much as possible.
What do you enjoy most about your TBird.
We enjoy taking the car to any Rockabilly car shows, or just cruising Beach Road at Sunset and there's nothing better than Sunday cruising with our Forum Friends.
The car was featured in Unique Autos magazine shortly after completion, Here's some pics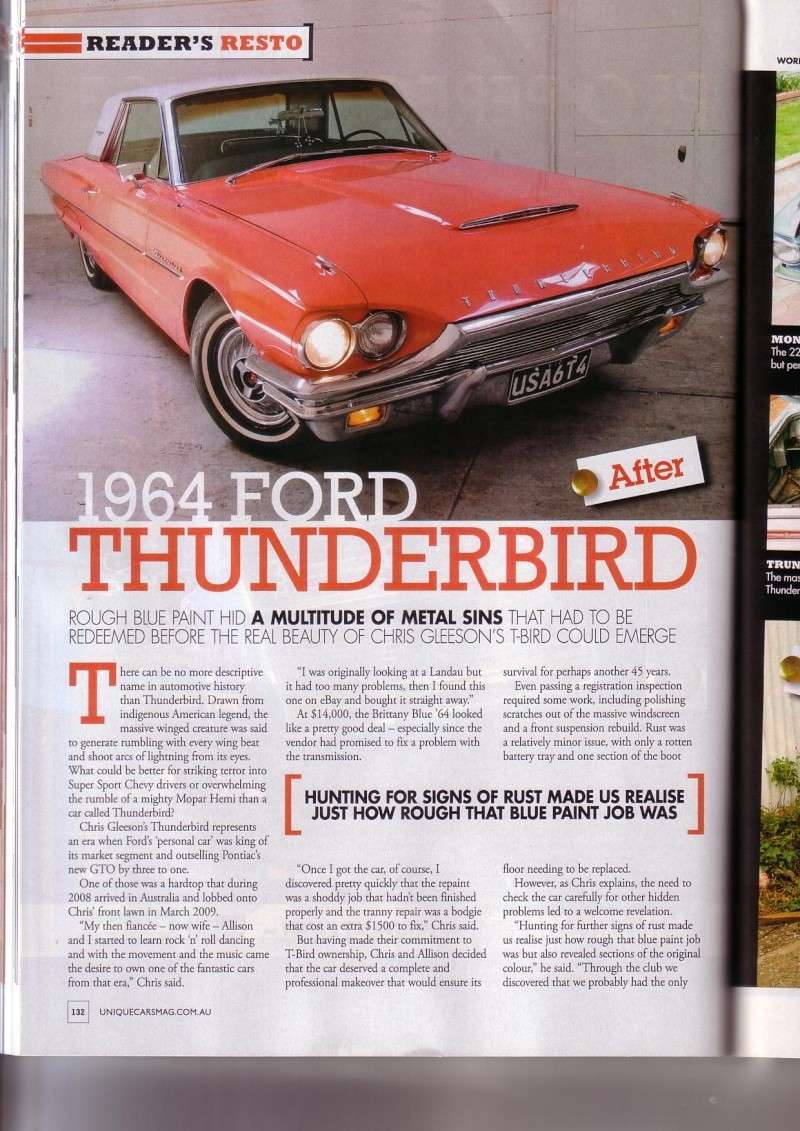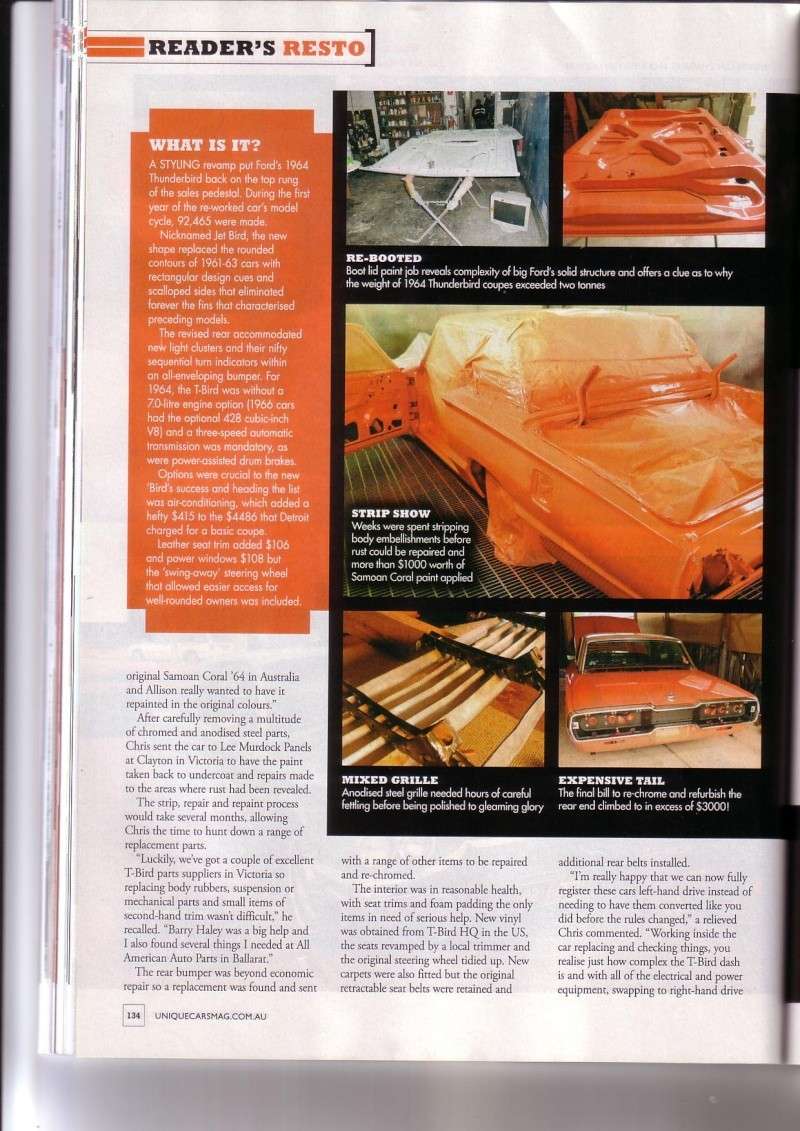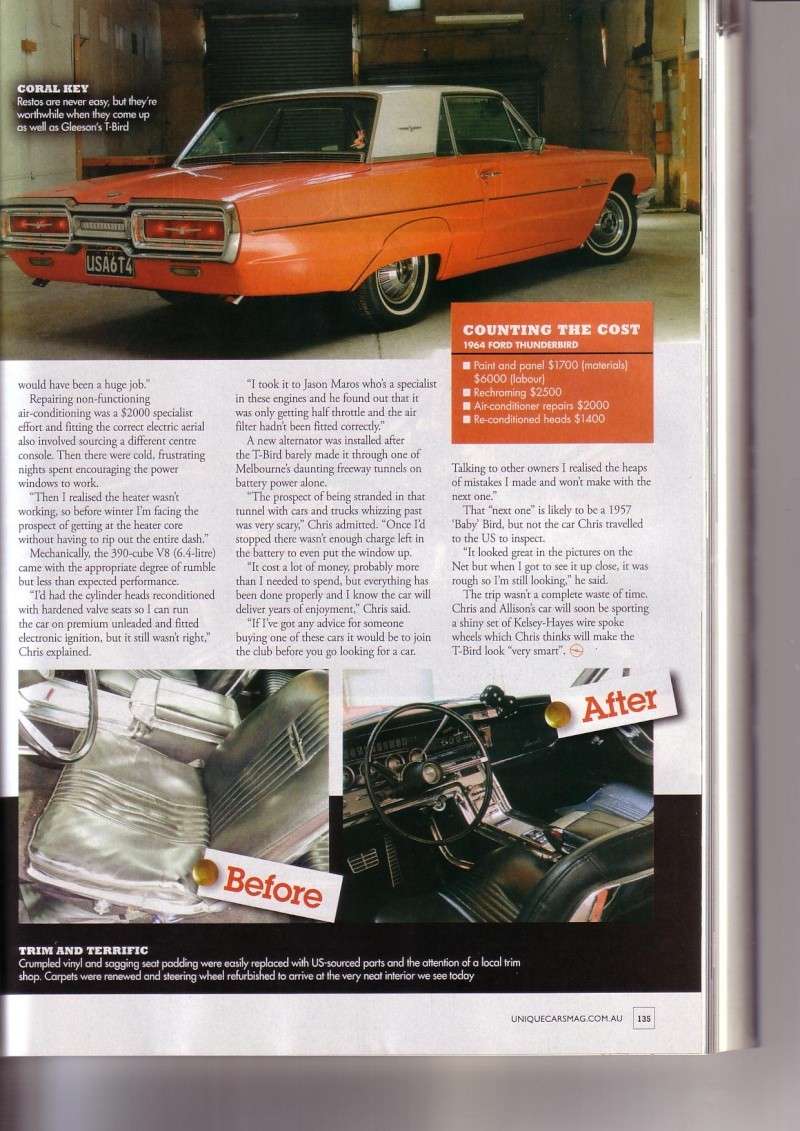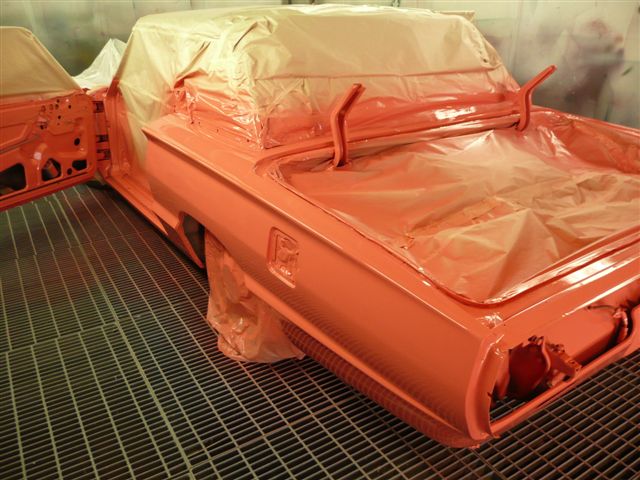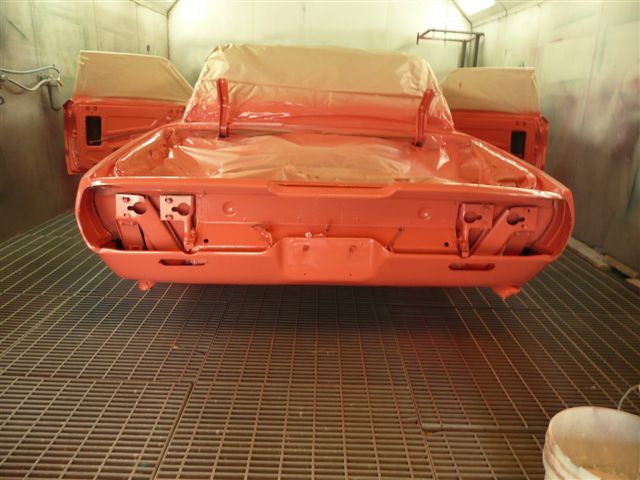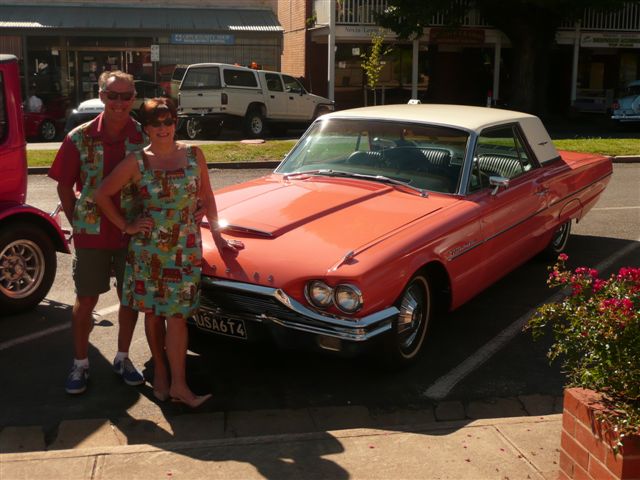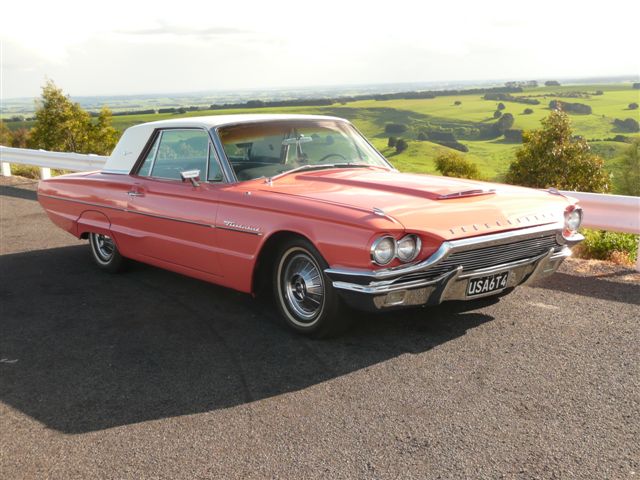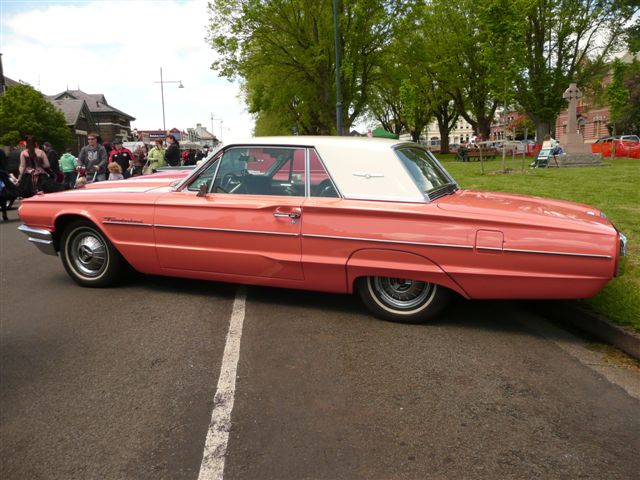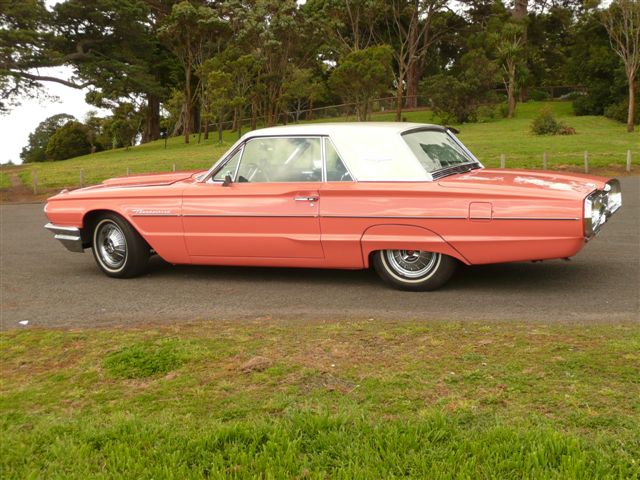 Last edited by DaveG on Mon Apr 22, 2013 10:35 pm; edited 4 times in total


***************************************************************************
Those that matter dont Judge, Those that Judge dont matter
No Chrome = No Class
Admin




Posts

: 1015


Join date

: 2012-02-24


Location

: Narre Warren



Hi Chris and Allison,
you have certainly made it "your" car, really nice and now I can see how much went into it. All that paint that you don't see unless you go looking for it, glad you did the full car and not just the outside


!
Well done.
Graeme



Posts

: 124


Join date

: 2012-03-19


Location

: Ringwood East



Hi Chris and Allison
well done on the job you and your wife have donegood to hear that your wife enjoy it as much as yoi can finnaly put a face to the car i seen around even down camperdowm



Posts

: 33


Join date

: 2012-04-16


Age

: 57


Location

: melb



Congratulations Chris and Allison...we know how much your car means to you and how much you love to drive it. It's funny how a piece of metal and four wheels can help to make so many great new friends...we love cruising with you guys.



Posts

: 114


Join date

: 2012-03-18


Age

: 58


Location

: Altona Vic



Chris

love the story especially, and i quote "Added Extras: Electric aerial Fluffy Dice, Bouncing Elvis." classic, every time i see this beauty I cant help but stare at her, great job on the resto and happy cruising, see you round the roads Beep Beep.




Posts

: 123


Join date

: 2012-06-05


Location

: Keilor Downs



Chris & Allison,
The journey has been long, but the car is a testimate to the hard work and money that was put into her.
She is a lovely car

It will be great to cruise with you both in Spring when my bird is on the road.
Admin




Posts

: 604


Join date

: 2012-04-11


Location

: Boronia, Victoria



---
Permissions in this forum:
You
cannot
reply to topics in this forum