G'day all forum members, Chris(USA6T4) here, reporting in re the fantastic event which was called 'Wintersun', and now called 'Cooly rocks on'. After the Franchise moved to NSW, the Coolangatta Council, Tweed Heads RSL, etc kept the Nostalgic week going, which I am told brings in 18 mill. for the week it is on.
We stayed at the Outrigger Hotel, which is attached to the Tweed RSL, and is very close to the centre of things. There were about 8 stages set up for bands all over town for the weekend, apart from bands in the hotels, clubs and a Swing marquis on the beach side of the main drag, which has the most CARS parked. I think there would be over 2000 cars on display. Rods, sleds, cruisers, classics, and oddballs. Guys bring the cars down at 6am or so, to get a good spot(something Kev Spit can relate to), the cars are bloody everywhere. Apart from the Ratrods all cars are presented as well as we would do. It takes hours and hours to see all of them.
The restaurants are all packed with car people, rock and rollers, Rockabilly types, bikies etc. Everybody having a great time looking at cars,drinking(no driving), dancing or listening to music, drinking and looking at cars, and drinking and eating. What fun! Unfortunately it started raining Saturday night in earnest, and spoiled things a bit on Sunday, but we soldiered on and still had a ball.
My favourite car was a '59 Chrysler Imperial in a beautiful pink pearl. 1758 of them were made to go up against the Caddies and Lincolns, $6500 cost, electric everything, with a stainless steel roof. Absolute class!!!! I'll try to get some pics of the cars up for you to salivate over.
Apart from the above mentioned ther are market stalls for everything to do with cars and the rock and roll era. Clothes, hats, dresses, car stuff, harleys you could ride in a tent, with the back wheel on rollers(fantastic to watch), you name it ,it was there. The Kitten found some dresses that she didn't already have --unbelievable!! I got a nice retro shirt and a pair of baggie trousers, which I had taken up and wore that night. So many people get into the swing of things, get dressed up and have a ball. It's a great few days of fun, fun, fun. We're booking the accom again for next year. Like to take our T'Bird, but it's a long way. Chris
59 imperial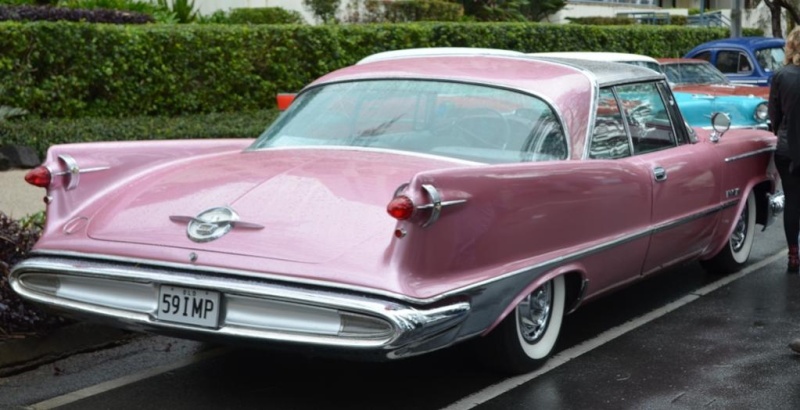 Posts

: 39


Join date

: 2012-04-13



Having a little Sunday a/noon quiet time, been weeding and working in the garden all day.

Stumbled accross this post again, great read Chris thanks for posting made me feel like i was there, will be in 2013 accomodation already booked, would love to take the car but for me it's just too far to drive in a 50 year old car. Loved that Imperial... what a stunning looking car. Thanks for posting Chris.


***************************************************************************
Those that matter dont Judge, Those that Judge dont matter
No Chrome = No Class
Admin




Posts

: 1015


Join date

: 2012-02-24


Location

: Narre Warren



---
Permissions in this forum:
You
cannot
reply to topics in this forum