Name:
Graeme and Felicity Anderson
Forum Name:
Rhinosoft
Country / State:
Melbourne, Australia
TBird Year
1962
Body Type
H/Top
Body Colour: Cream, was Wimbelton White originally
Interior Colour:
Pearl Beige
Engine:
390: Edelbrock manifold, Holley Street Avenger 670 cfm carburettor, mild Lunati camshaft, full rebuild to look stock but does not sound it and goes well!
Transmission:
Automatic
Differential:
9" 3.0.1
Standard Equip;
Power steering, drivers electric seat, power windows, air conditioning (not connected), windscreen washer.
Added Extras: Remote central locking and boot release/remote start, extinguisher, electric fuel pump for priming.
Purchased From:
Spent quite a few months searching over 2006; travelled to Brisbane to see one that was not cheap but turned out to be a junker, a wasted trip. Found a nice one in Western Suburbs of Melbourne but decided not to buy. Finally went to Sydney and found my current car. It was what I was looking for, honest but not needing a heap of money to fix it up. There were 2 cars at the place in Sydney, mine and a 63 hardtop which was cheaper than mine. This 63' is now in Melbourne and the owner is in the Thunderbird Club, that car is how I remember it all those years ago. i.e. untouched.
Modifications:
I have replaced the front brakes with discs off a 66 Thunderbird and 15" wire wheels to suit. Added dual master cylinder and reconditioned booster out of a Torana. Replaced generator with Alternator and starter with a hi-torque version.
Wheels Type & Size.
Reproduction wire wheels with spinners and 15" BF Goodrich white wall tyres.
Work you've done or had done :
Rebuild of engine, transmission, power steering pump, balanced drive shaft, new interior, 2" exhaust system, heaps more.
Future Plans
Nothing unless I want to paint it but the 20 footer US paint job is fine for now.
What do you enjoy most about your TBird.
I enjoy driving the car and meeting new and old friends on cruises. I also like that old car smell and the heat vapours after a long run, knowing that you made it home safely but in my case recently I am just glad it got us home!
here's Some Pics of Graeme's Pride & Joy.
Installed new dual master cylinder (HZ Holden) and booster (UC Torana). Note the brace that Mark (mr64tbird) reprofiled for me! Tucked down there is the brake light switch and invisible in this shot the Wilwood Proportioning valve.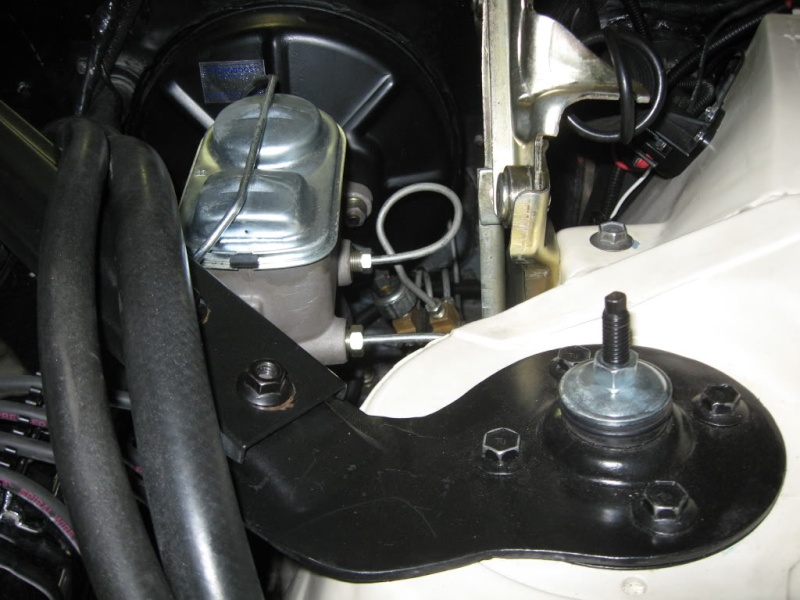 Here is a side image of the car without the spats. I don't mind the look actually but since I have the spats they are always on now. This was taken at a town fair, Diamond Creek in 2010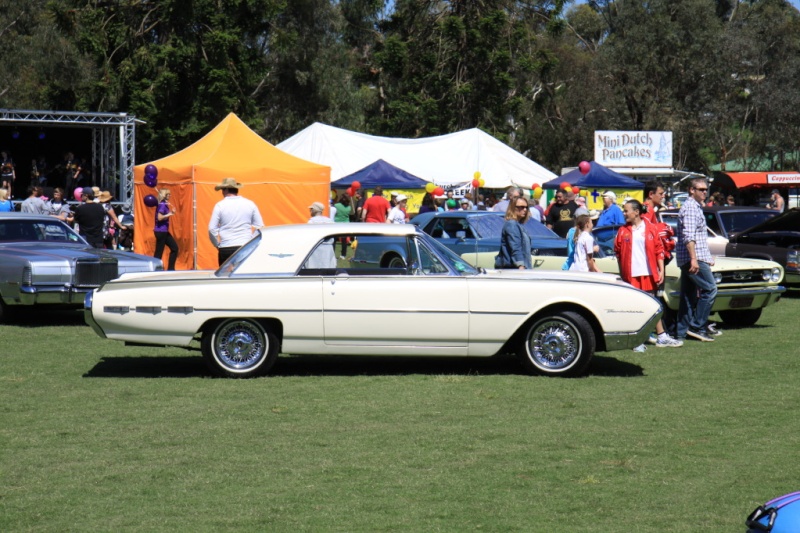 Couple interior shots, sorry about the background! You can spot the little water temperature gauge there, looks pretty good and works really well. I did not have the heart to remove the original radio (works) but on passenger side is a iPod/CD/AM/FM radio which is just attached with velcro so easily removed. Dash has 2 cracks but otherwise not buckled at all, just put a carpet cover over it.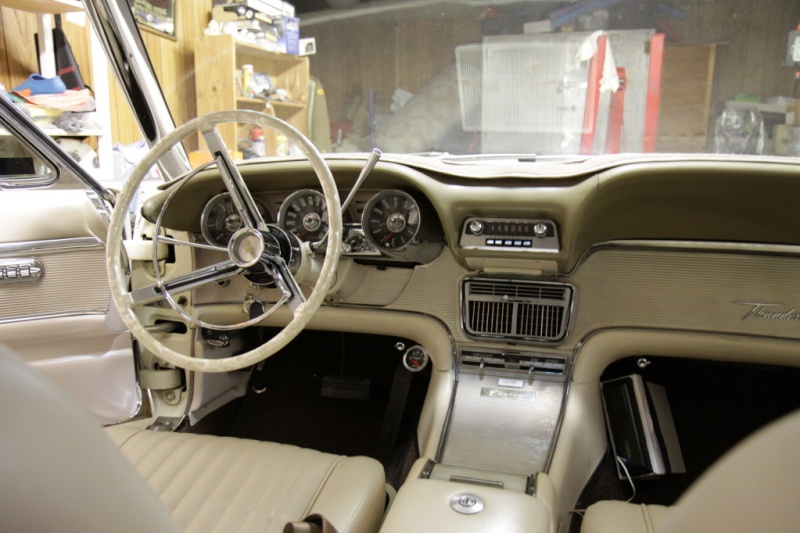 Steering Wheel is a PearlCraft item, looks and feels good. You can just under the heater controls see the plaque that shows the original owners name, I think that's where it was originally installed?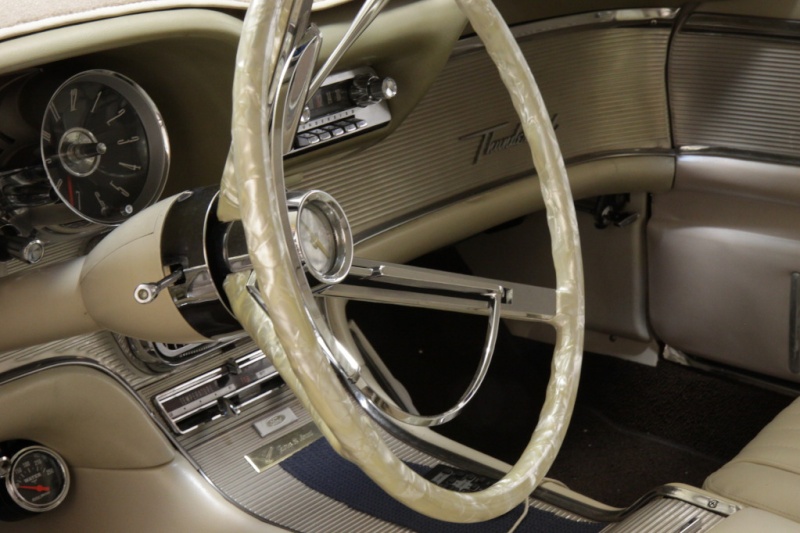 Bits and pieces found in the console and other places including the original owners plaque, 'James R Smoot'.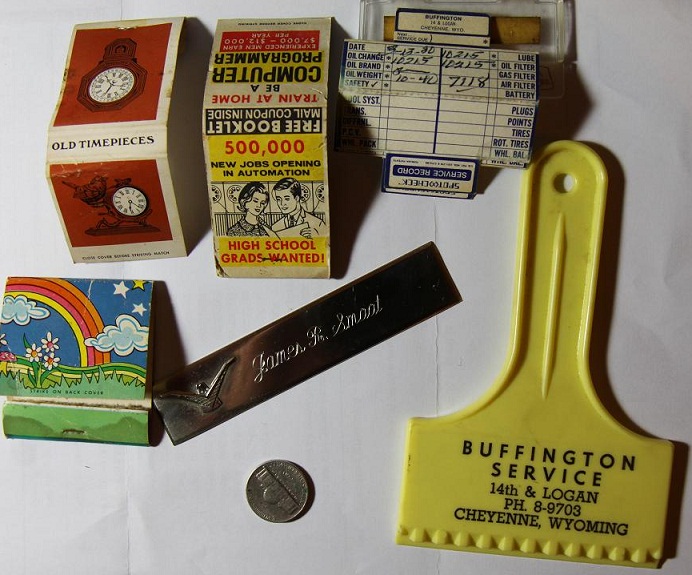 Wide angle lens close up, makes it look 20' rather than 18' long.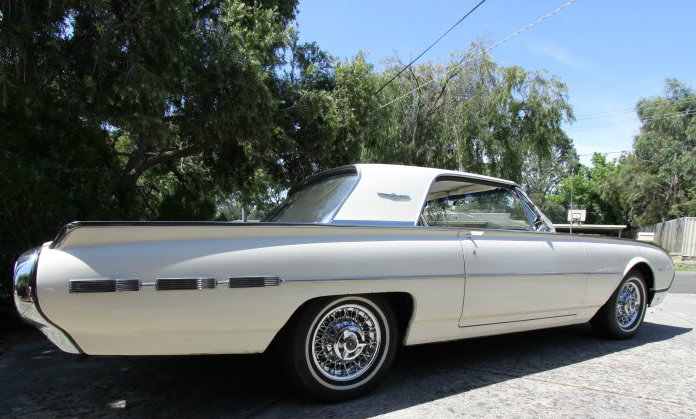 Might not be too long until I have car registered on club plates, $700 is too much!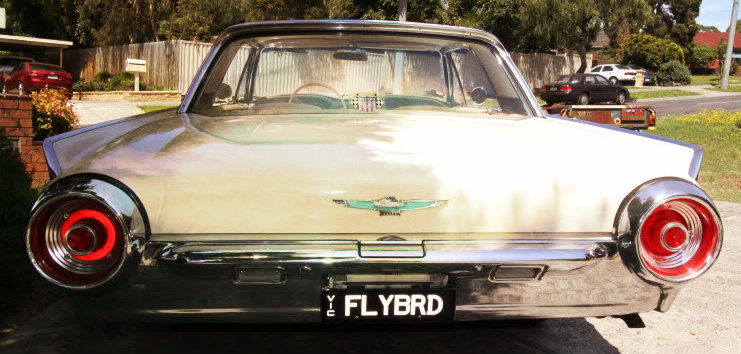 Showing the spats back on, this was taken in 2012 at Phillip Island, Thunderbird State Nationals.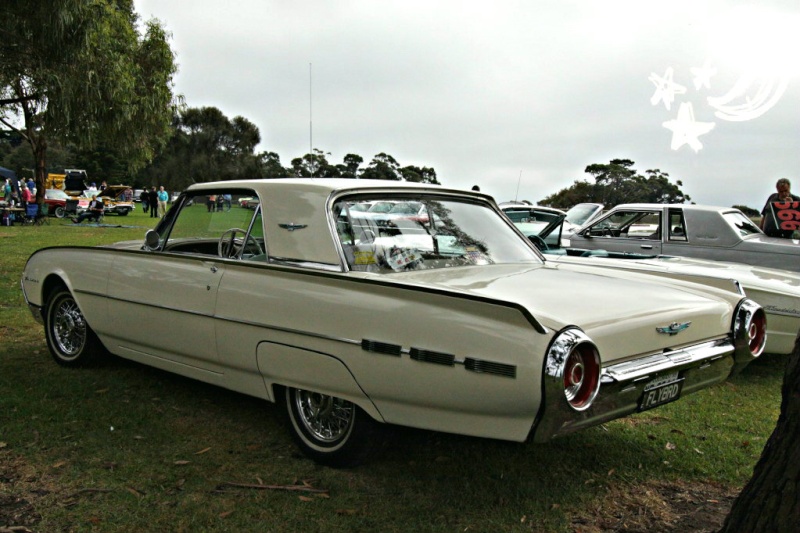 Last edited by DaveG on Mon Jun 04, 2012 11:08 pm; edited 2 times in total


***************************************************************************
Those that matter dont Judge, Those that Judge dont matter
No Chrome = No Class
Admin




Posts

: 1015


Join date

: 2012-02-24


Location

: Narre Warren



Thats looks fantastic - And dont get me started on that Pearl steering wheel - it adds so much class to that interior. Im off to order mine now !



Posts

: 44


Join date

: 2012-05-21


Location

: Sydney



nice car Graeme love those big tail lights on the bullet birds



Posts

: 75


Join date

: 2012-04-24



Ok, that steering wheel looks out of this world, did you have it made or did you buy it like that, i have seen another which tickled my taste buds to have one, it was white and blue, sore it at the all Ford day at Geelong this year.




Posts

: 123


Join date

: 2012-06-05


Location

: Keilor Downs



Very nice indeed i love it that you bought one needing some tlc and by the sounds of it you have done heaps and you're not afraid to change things for the better, like the upgrades that duel action master cyl is awesome ! single action ones are a death wish:affraid: but thats a story for another day. you certainly have a bird to be proud of mate.



Posts

: 21


Join date

: 2012-06-04


Age

: 48


Location

: Sunshine Coast Queensland



Hi,
thanks Fella's - I got the wheel refinished at Pearcraft on the southern coast of Australia, Bega:
http://www.pearlcraft.com.au/
- be aware the damn site has music when loaded which annoys me!
Graeme



Posts

: 124


Join date

: 2012-03-19


Location

: Ringwood East



---
Permissions in this forum:
You
cannot
reply to topics in this forum